Last March I talked a little about how pieces evolve around the studio and am always excited when someone challenges me to make something in a way I have not done before.
"Only the wisest and stupidest of men never change."  Confucius
So, recognizing I am not the wisest of men, nor the stupidest,  (although there was that groundhog incident; which is a story for another day)  I figure changing what I make, or adding to a form I have been used to, will lead me down a path of enlightenment.  Or, it just might be fun!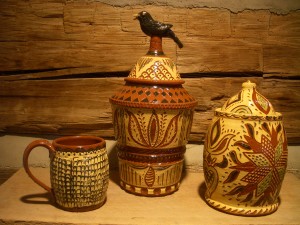 Case in point:
The storage jar in the middle, with the fun little singing black bird on top was inspired by a jar I saw in the American Folk Art Museum.   The sgraffito design and the bird finial are different, but what was unusual is the angled sides of the storage jar and how thick the sides were which allowed for deep carving.   Well,  I had this at an 18th c. market event and was asked if I could make a lamp in this style.    The result was a really striking lamp with great character, form and function.  It's fun to look at too!  
As seen on the lamp, the black diamond pattern that encircles what would be a lid, becomes a focal point.    I have done this pattern before and it truly catches the eye with it's contrast.    So from this lamp, the design is now asked to be made smaller in the form of a sugar bowl.
One can see in the background a plate that carries this pattern around the rim, but the sweet little piece in front is the piece that people want to pick up and touch when they see it.  Perhaps it's the bulging little belly, maybe it's just how right it fits in one's palm.  I'm not sure what it is but it is cute and has already been done several ways in recent kilns.
So to sum this up, I can only say that I am glad not to be the wisest of men, nor the stupidest, because change seems to enlighten me when I am in the studio.  (as far as the groundhog story, you'll have to ask Ruth.)