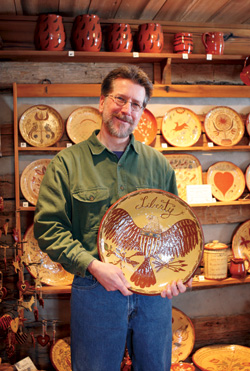 Thos. Wintczak started creating pottery relatively late in life, but knew as soon as his hands touched the clay that the feeling of connecting with the earth would be an important balancing factor in his life. He equates this feeling of hands in clay to working in the garden with his hands in the soil; as the garden grows so grows his pottery passion. After completing a six night continuing education class, he continued to throw and grow, eventually helping others in the class to experience the same love of clay that he enjoys.
In 1997, the Bee Tree Pottery was founded in rural Posey County Indiana.   This is the county where The Harmonist Society settled in 1814 and carved a beautifully quaint village out of the Indiana wilderness.   The history of this area and Tom's love of early America, has led him down the path of making redware in the style of 18th and early 19th century potters.  Tom was recently juried in to The 2018 Directory of Early American Crafts by Early American Life Magazine; an honor bestowed upon artisans showing mastery of the art form, heritage techniques and workmanship according to the judges.
Tom's clay path has taken many a turn, but has always followed the folk art tradition.  He quips that he is a first generation folk potter.  No pa, grandpa or greatgrandpapa is giving their experience and knowledge to him, so experiential learning is a daily occurrence.  Not having been trained formally in art, Tom's  pieces reflect his admiration for the natural world in the true spirit of folk art.  He says, " I see it and it comes out of my hands the way I see it". In addition to early American pieces, Tom creates face jugs from the mid 19th century, snake jugs from the late 19th century and studio functional pottery with an Asian folk tradition influence.