Or, maizy doats and dozy doats…..?  What does this have to do with anything?  Weird combinations ,  I suppose.   Thought I would post this marbled snowflake plate, inspired by a star plate that Solomon Grimm produced back in the early 1800s.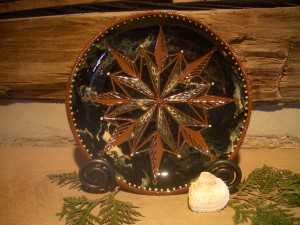 The snowflake instead of a star came to mind a few weeks ago when I was trudging through a foot of snow to get to the studio; after seeing billions and billions of them, (snowflakes) I guess it was just natural to pay homage to the masses.
This redware plate is first marbled with slip, then carved through, sgraffito style, with a small piece of tin.  Then more slip is added to give it depth.    The edge of the plate is textured by pressing the shell in small sections around the rim.
So, does all this make sense now?   The maizy doats and dozy doats thing is still a little up in the air, but one can google that and find out plenty… and don't forget,  a liddle lamzey divey.