As promised, the kiln was opened this weekend and as usual, there were surprises; some good, some bad.  I now know Tenmouku loves Buckwheat.   I know it sounds like an international chick flick, but alas, they are two glazes that married well and will live happily ever after in future kilns.   So, I thought I'd post images to show just how colorless the mineral glazes are before they get burned to 2345° and after, when the minerals melt in to colored glass over the clay objects.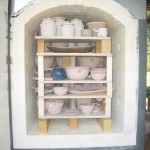 The glazes rest on the pots like powdered sugar on marbles.  You can literally dust them off if you handle them improperly.  ( the one blue vase on the left  had been fired once before and I put it back in for a refire)   A lot of the glazes before hand appear to be tan, pink or gray because of the raw minerals and clay in the glaze recipes.  (Now you can see why when a potter is trying new glazes or combos, having no expectations is best. )   When the pieces are fired, they sometimes are more beautiful than  one can imagine, and I find myself growing more attached as I let the pieces acclimate to the world and my way of perceiving them.  But if you think your copper red glaze should have been bright red and actually turns out frothy green, (because of technical reasons too boring  to go into here) one may feel disheartened; yet upon further reflection, it may be one of the most beautiful pieces in the kiln.  (This has actually happened to me) ~~Thus, No expectations.  In the next couple of posts. I will show some pieces from this kiln that I like for different reasons.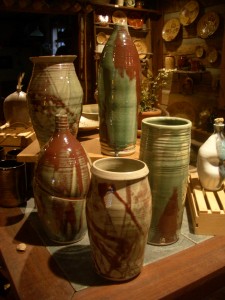 a study in white~~ $500
The above is really one piece I call "a study in white".   Five pounds of different white clays for each of five vases.  I used my copper red glaze.  Learning from past firings and having no expectations, I can  achieve both red and green out of this recipe by manipulating it's thickness on the piece and firing in a medium to heavy reduction atmosphere.   I feel it gives the glaze a very organic look which adds motion to the pieces. 
No expectation-No disappointment ,
just beauty to those who open their minds to the flow of energy in the artful kiln.