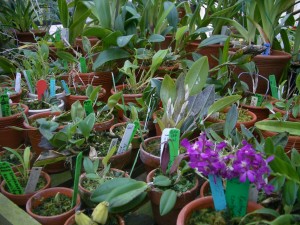 Well, kinda, sorta……
Last Fall, I met Ron Giles at the Master Gardener Conference at USI, and little did I know that Ron could transport me to Central America.    He explained to me that he was an orchid grower (understatement) and wondered if I could make specific types of pots for his orchid needs.  What transpired for me was a great education into the world of orchids, their specific needs, and most of all, getting to view the other-worldly flowers that they give to  this world.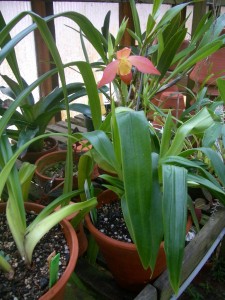 These beautiful flowers are the result of being happy in Ron's greenhouses and in him tending to the many needs of these horticultural divas.  Some like it hot; some like it hot, but not too hot.  Some like it hot and their feet wet; some like it hot and their feet dry.    So when Ron asked me to make these pots for him, of course the potter in me said sure.   But after visiting Costa Rica today, (Ron's greenhouses), I realize there is a higher calling to making these homes for such beloved plants. 
The interesting part about these pots is actually the interior.  There is about a 3″ cone thrown into the bottom of the pot so the roots can spread out and dangle their tootsies in water, yet there are holes in the side for air and to let out any deep water.   I made them in the style of the old English "long tom" pots which adds a nice classic elegance for these beautiful ladies. 
And with a twist of the door handle, we were back in Posey County, where I returned to the studio to decorate some Moravian style redware and plant some rock garden plants in our  sandstone rock ledge.~~~It's good to be back home.