Seeing red is truly an emotional experience.  Not the anger emotion, but an 'emotional bucket' of sadness, awe, wonder and anxiety.  Do I like seeing red?   The fact that I make redware pottery for a living is all you need to know to answer that.  November brings on the reds that trigger the 'emotional bucket'; so I thought I would share some of the red sightings around the pottery before the wind blows the red away.     The first image is the beautiful cock's comb, covering the garden with its' late Fall splendor.


This is a volunteer burning bush that we moved several years ago that brings us great joy in the Fall.  Placed by the split rail fence, the contrast of the gray rails and the bare trees in the woods is truly striking.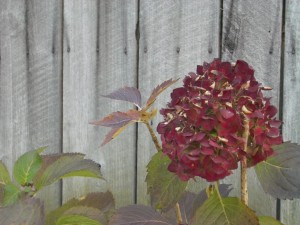 Just a few months ago, this beautiful dried hydrangea flower was as blue as the sky.  Now its dark red petals turn our otherwise drab little brooder house into a colorful canvas.
Even though the tomatoes are green this time of year, the Swiss chard is putting on its' show for us in the vegetable garden.

When the sun is setting, the bright red stems are a treat for the eye, and soon will become a treat for the palate!
Even the Head Gardener at the Bee Tree Pottery Estate is decked out in red.  Coincidence?  I think not.  It's because she works so hard doing Fall cleanup that if she passes out from exhaustion, I can find her easier.  (It's like painting the handle of your favorite garden trowel red.) 

And last but not least, I will leave you with the last of the leaves on the Sumac, a true sight for sore eyes.

So there you go.  Seeing red was not as bad as you thought it was going to be.
I'm glad you stuck around to view these before we're all seeing white, which brings on a whole different bucket of emotions!
Lots of new redware in the studio also.  Come and visit, maybe do a little Christmas shopping.  Gift certificates are also available in case you'd like to surprise someone but not sure what they would like, or may already have.  Lots of red;  Guaranteed!