If there ever was a place where the name described exactly what it was like to be there, this is the place.
Shaker Village at Pleasant Hill Kentucky
Coming the weekend of August 6 and 7, Shaker Village will host their 16th annual fine juried craft fair, where over 60 artisans will present their wares, from contemporary crafts to the crafts of early America.  Like the potters of old, I will be hauling as much of my redware pots as my wagon will hold and be displaying and selling to all who will take time to visit.  I just unloaded a kiln this morning and will be bringing some new items never seen before.  Here's a peek at 3 small pieces that I thought came out rather charming.
$20 ea 
Please come and visit and see lots of other new pieces in the style of 18th and 19th century redware.
Next to my booth, I am pleased to say is my friend Lydia Allen of Peace Works, creating wool appliqué works also in the style of early America.  Her work is impeccable and must be seen (and you will want to touch) to be fully appreciated.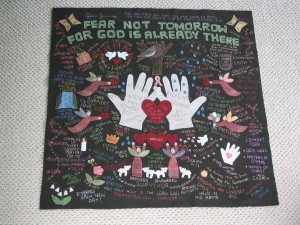 This is a special wall hanging that samples a lot of Lydia's technique.  You will have to stop by to hear the special inspirational story behind this piece.
So, please come and visit Bee Tree Pottery, Peace Works, and Pleasant Hill.   I'm feeling calmer just thinking about it.
For more info