Thank you very much Beth! ~~~  Beth Mohr is a  friend, potter, and neighbor of mine who is firing a salt kiln; which is a pretty fun thing because salt glazing is fascinating and the finished product can be achieved no other way.  The distinctive "orange peel" surface is tactilely satisfying and the way the salt vapor "shrink wraps" the piece with a clear,  durable surface is one of those pottery miracles that clay throwers cherish.  Saturday, Beth took the kiln on with zeal, determined to be done by the time thunderstorms moved in, (this Spring there have been very small windows between storms) and she did it!!  ~~~  Salt glazing has been around since medieval times and was used quite a lot in Europe.  As stoneware pottery developed in the 1700's in early America, the familiar salt glazing was favored by the immigrant potters. 
The type of historic pieces I do from the early to mid 19th century, lend themselves well to this vapor glaze; to which I say again,  "Thank you very much Beth!"    Here are a few of my folkware pieces from her latest storm dodging kiln, newly born to the world today!
Larry, Moe and Curly were inspired by some little ugly jugs that live at The Smithsonian ; mid 19th century.   The iron in the clay may have flashed a little in this kiln and gave their cheeks a healthy rosey glow; always nice to see in an ugly jug.
This little bird seems happy amidst the Nine Bark bush, waiting for you to insert your coins to save for a rainy day. (did I mention we've had a lot of rainy days, thus this bank is empty, for now)  And no, you don't have to break the bank to get your money out.  I promise to let you know the secret when you purchase one.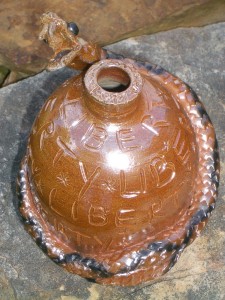 Ahh, the snake jug.  These sometimes tend to disturb people; which actually was the intent by those who originally made them.   They were to remind people that the whiskey in the jug was good for medicinal purposes but if abused could "bite".   Not a bad symbol.  This little guy is wrapped  around a "Liberty" jug symbolically protecting the precious and fragile concept.    I plan on using this jug myself at 18th century reenactments. 
So, this is just a sample of how salt glazed pieces turn out.  For these and Mohr, that's Beth Mohr, you'll have to come and visit our booths at the Arts in Harmony event this weekend.  Sat. 10-5 and Sun 11-4  in New Harmony, Indiana.  There will be lots of artists and music and food, so come on down, (it will be indoors if there is a threat of storms) and ask Beth to "Pass the Salt Please!"